5 Reasons to Enjoy the Volvo XC40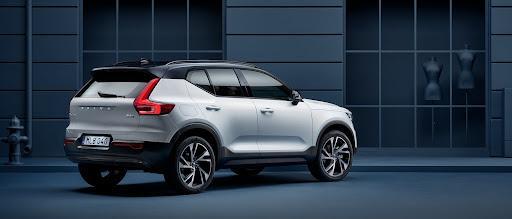 Our Wynn Group team found it hard to narrow down all the reasons we love the Volvo XC40. It's a beautiful car. Built specifically for city life, this compact SUV has the design you'd expect, the features you want, and the safety technologies you need to feel great behind the wheel.
The Volvo XC40 is a design triumph.
Sculpted and sophisticated, the Volvo XC40 turns heads. Designed for modern tastes, the Volvo XC40 is beautiful inside and out. Choose from five bold exterior colors that define your style.
Carefully curated materials, superior craftsmanship, and intuitive design are the highlights of the Volvo XC40's interior. Settle in behind the driver's seat and be comforted by seats designed for long trips and engineered to relax and rejuvenate.
Multiple seating configurations provide the flexibility you need.
Our on-the-go lifestyle requires flexibility and versatility. You'll find both inside the Volvo XC40. With back seats that fold flat and a rear floor that converts into a cargo divider or shopping bag holder, you have all the options you need for your favorite people and all your most important things.
Available features feel more like necessities, not luxuries!
Our advanced Air Purifier filters cabin air and protects you and your passengers by keeping 80% of hazardous PM 2.5 particles from ever entering the cabin. Drive with confidence - even on days with lower air quality.
Subscribe to the available Digital Services Package and enjoy full access to all the remote services in the Volvo Cars app, including Remote Lock/Unlock, cabin pre-cleaning, and cabin heating and cooling.
A panoramic sunroof lets sunlight in to create an open, spacious feel within the cabin. It's large enough that even the backseat crew will appreciate the blue-sky view - this sunroof is a game-changer!
Next-gen technologies keep you connected on the go!
Stay connected while you're traveling with the convenient accessibility of the center display. Access contacts, navigation tools, and playlists without your hands ever leaving the wheel. You'll stay in control and in touch - no matter how far your journey may take you!
No more tangled cables. Leave your cords and adapters at home. Wireless charging is the future, and that future is inside your Volvo XC40. A dedicated smartphone charging space makes wireless charging an option for all compatible devices.
Turn up the tunes! Our Harman Kardon audio system is specially engineered for Volvo. Fourteen specially-engineered speakers with a powerful subwoofer are ready to pump in your favorite tunes, making your trip the best one ever!
The Volvo XC40 is packed with safety features that save lives.
Our driver-assist technologies are so intuitive and helpful that they boost your confidence with every drive. Safety features that act more like a helpful co-pilot keep you in the know no matter where you go. Features include:
Blind Spot Information System. When this system is activated, you receive active support when changing lanes and keep your eyes on the road ahead. If a vehicle is in your blind spot, you'll receive an alert, so you're aware of your surroundings at all times.
Cross-Traffic Alert with Auto Brake. When you're in reverse, this system detects traffic movement at the rear of your vehicle, and lets you know when the coast is clear. If you're unable to react quickly, the system activates Auto Brake to keep you out of harm's way.
Lane-Keeping System. If you inadvertently veer from your lane without using your turn signal, this system alerts you to refocus and realign. If you're unable to react, our system gently guides you back to the center of your lane.
Collision Avoidance. Day or night, pedestrian, vehicle, or animal, if an obstacle is in your way, this system alerts you. Auto Brake will be applied if you're unable to stop in time.
These are only a small example of the safety features that change the way you drive. Talk with your sales team member about all the ways Volvo leads in safety innovation and technology.
About Us
The Wynn Group is here for you! We love the Volvo XC40 for lots of reasons. Visit us in Norristown and let us show you all the reasons you're sure to love it, too.
We know purchasing a vehicle is an investment. Our team respects your time and space to think through all your options. At The Wynn Group, you'll find a dedicated, friendly, professional team ready to answer all your questions and help you think through your options. We're here for you!
Take a test drive. Bring the family. Let us show you all the bells and whistles. Then, let's work together to figure out how to get a Volvo XC40 in your garage. You won't regret it.