Drive in Style in a Volkswagen Atlas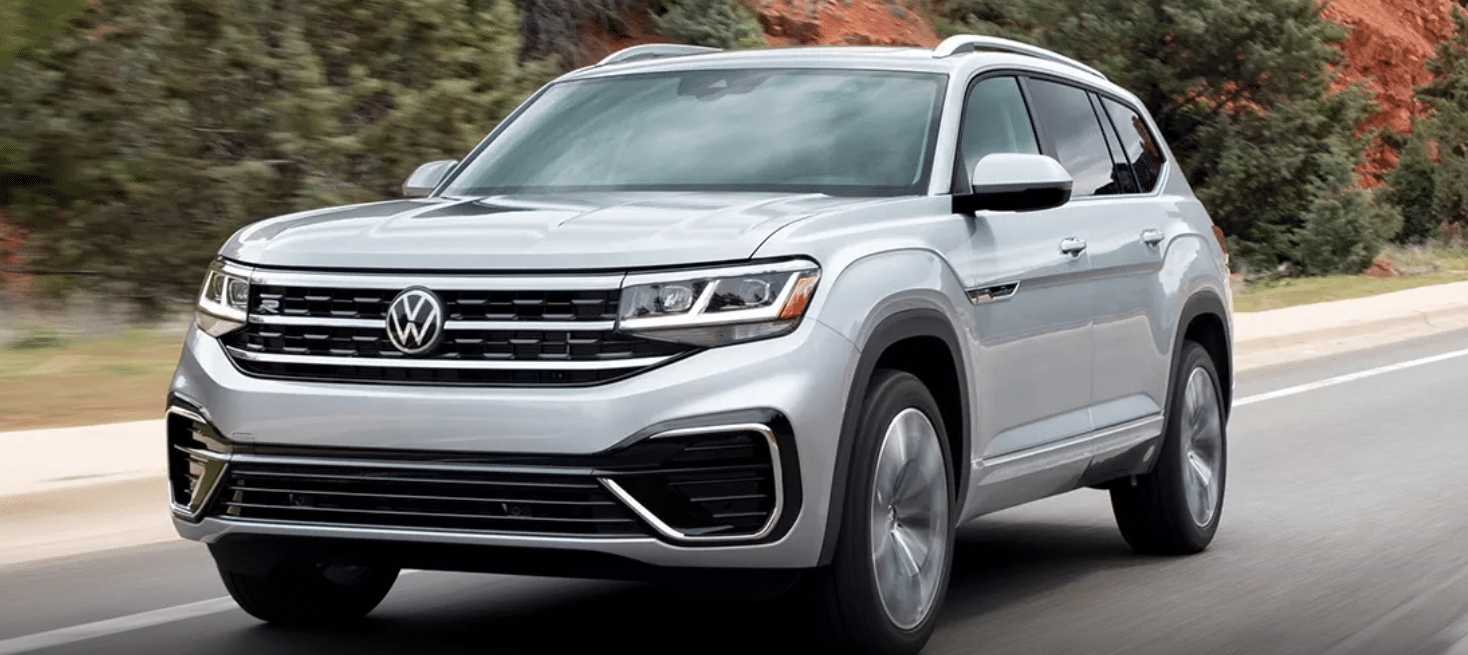 For generations, Volkswagen has been a symbol of quality, safety, and style, capturing the hearts of drivers worldwide. The brand's steadfast dedication to creating vehicles that cater to diverse needs while emphasizing elegance and safety has cemented Volkswagen's reputation in the automotive industry. If you're searching for a fashionable, spacious, and dependable SUV, the new
Volkswagen Atlas
is the perfect choice.
Pay a visit to Wynn today to peruse our vast array of Volkswagen vehicles and immerse yourself in the exceptional customer service for which we are renowned. Don't hesitate! Visit
Wynn
today and discover the perfect fusion of style, comfort, and reliability the Atlas offers! Elevate your driving experience and make a bold statement on the road with the Volkswagen Atlas.
Performance Prowess
The Volkswagen Atlas is expertly engineered to offer drivers the ideal blend of power and performance, guaranteeing a seamless and responsive driving experience. Beneath the hood, you'll discover a standard 2.0-liter turbocharged four-cylinder engine that achieves remarkable fuel efficiency without compromising performance. For those who crave more power, an available 3.6-liter V6 engine provides increased horsepower and torque, ensuring you can effortlessly navigate any driving situation.
The Atlas's superior handling and impressive capabilities make it the perfect choice for those seeking an engaging driving experience whenever they take the wheel. Equipped with an 8-speed automatic transmission, the Atlas ensures smooth gear shifts, contributing to a comfortable and enjoyable ride. Moreover, the optional 4MOTION all-wheel-drive system gives drivers added confidence and control when encountering various road conditions.
With its well-balanced blend of power and performance, the Volkswagen Atlas is more than capable of meeting the demands of modern-day driving. Whether navigating the urban jungle or embarking on a road trip adventure, the Atlas delivers a dynamic driving experience that will leave you eager for your next journey.
Sculpted Elegance
The Volkswagen Atlas perfectly combines comfort, safety, and style, making it an outstanding choice for discerning drivers who seek excellence in every facet of their vehicle. Its eye-catching exterior design, opulent interior, formidable performance capabilities, and state-of-the-art safety features are all testaments to Volkswagen's unwavering dedication to crafting top-tier cars that cater to various needs and preferences.
If you're eager to discover the exceptional driving experience of the Volkswagen Atlas, make your way to Wynn today. Our staff will be delighted to guide you through our extensive selection of Volkswagen vehicles, helping you find the ideal Atlas that aligns with your lifestyle and requirements. At Wynn, we take pride in offering outstanding customer service, ensuring that you drive away in a vehicle you'll cherish for years.
Crafted Comfort and Style
As you step inside the Volkswagen Atlas, you'll immediately notice the spacious and elegant cabin meticulously designed to deliver unparalleled comfort for you and your passengers. With seating for up to seven people, the Atlas ensures that everyone on board enjoys a relaxing ride, thanks to its generous legroom and headroom. The use of high-quality materials and an unwavering focus on detail culminate in a sophisticated atmosphere, transforming each journey in the Atlas into a first-class experience.
The Atlas boasts an array of amenities that cater to your every need. These include leather-trimmed seats for added luxury, heated and ventilated front seats for optimal comfort in various weather conditions, and a panoramic sunroof that bathes the cabin in natural light, creating an airy and inviting environment.
With the Volkswagen Atlas, you'll enjoy the perfect blend of comfort, style, and technology, ensuring a remarkable driving experience every time you hit the road. Equipped with an advanced infotainment system, the Atlas ensures you stay connected and entertained throughout your journey. The system seamlessly integrates with Apple CarPlay and Android Auto, allowing you to access your favorite apps, navigate, and communicate easily.
A Shield of Security
Volkswagen places the utmost importance on safety, and the Atlas exemplifies this commitment. This SUV has a comprehensive suite of advanced safety features designed to safeguard you and your passengers on every journey. The standard array of driver-assistance technologies encompasses Forward Collision Warning with Autonomous Emergency Braking, Blind Spot Monitor, and Rear Traffic Alert, ensuring that you remain aware of your surroundings.
With the Volkswagen Atlas, you can revel in a stress-free driving experience, confident that the most recent safety innovations are protecting you and your loved ones. The Atlas offers additional features such as Adaptive Cruise Control, Lane Keeping Assist, and High Beam Control to further enhance your peace of mind. These state-of-the-art technologies collaborate to help you maintain a safe distance from other vehicles, keep your vehicle centered within your lane, and improve nighttime visibility.
Ready to Test Drive a Volkswagen Atlas? Visit Wynn Today!
The Volkswagen Atlas perfectly blends style, performance, comfort, and safety. It is ideal for drivers who demand the best in every aspect of their vehicle. With its striking exterior design, luxurious interior, powerful performance capabilities, and advanced safety features, the Atlas is a testament to Volkswagen's commitment to producing top-quality vehicles that cater to various needs and preferences.
If you're ready to experience the unparalleled driving experience that the Volkswagen Atlas offers, visit Wynn today. Our friendly and knowledgeable staff will be more than happy to help you explore our extensive inventory of Volkswagen vehicles and find the perfect Atlas to match your lifestyle and needs. At
Wynn
, we pride ourselves on providing exceptional customer service, ensuring that you drive away with a vehicle you'll love for years to come.
The road to driving in style begins at Wynn, your trusted destination for all things Volkswagen. Don't miss the opportunity to elevate your driving experience with the stylish and versatile Volkswagen Atlas. Visit Wynn today and let our dedicated professionals guide you through choosing and driving home in the vehicle of your dreams.