From Cargo to Comfort: How the Volkswagen Atlas Excels in Versatility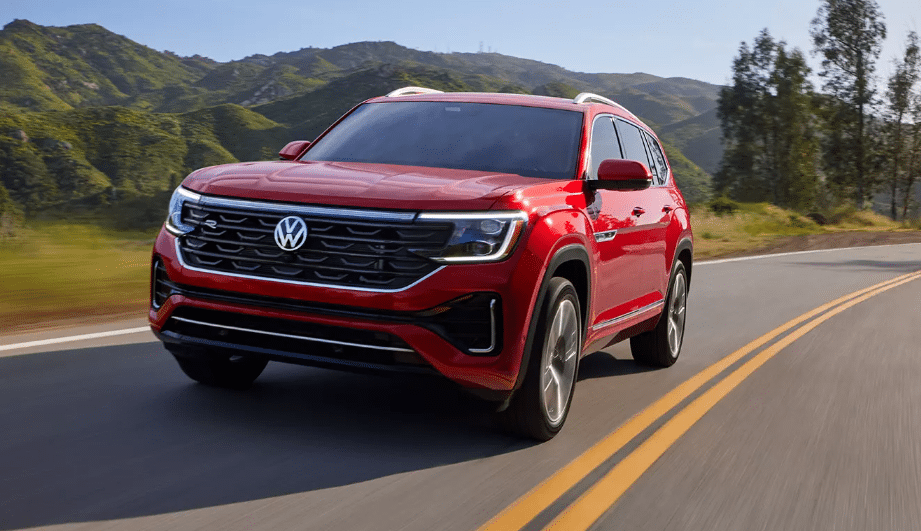 Navigating the challenges of daily life often requires a vehicle that can adapt as quickly as you do. Whether you're gearing up for a family road trip or have a weekend project that needs hauling, the
Volkswagen Atlas
stands out as an SUV built for versatility. It offers a harmonious blend of performance, comfort, and adaptability without making you choose between them.
We welcome you to
visit Wynn Group
to explore the many facets of this impressive vehicle. Our knowledgeable team is eager to guide you through its many features. Schedule a test drive today and discover what makes the Volkswagen Atlas remarkable.
The Engine Equation: Balancing Power and Efficiency in the Volkswagen Atlas
When it comes to engine options, the Volkswagen Atlas offers choices for a wide range of needs. You can opt for the efficiency-focused turbocharged four-cylinder engine, or for tasks requiring more muscle, the more robust V6 provides ample horsepower and torque.
Regardless of your choice, each engine is engineered for a delicate balance of power and fuel efficiency, ensuring you're well-equipped for both daily commutes and longer journeys.
Towing capacity is another key factor that underscores the vehicle's versatility. Whether it's a trailer filled with camping gear or a boat for a weekend getaway, the Atlas stands up to the task with impressive towing capabilities. This robust performance doesn't compromise fuel economy, allowing you to tackle any hauling needs with fewer stops at the gas station.
The well-tuned transmission of the Volkswagen Atlas adds another layer of adaptability. The Atlas not only excels in power in a manner that's harmoniously aligned with everyday practicality.
Mastering the Road: The Handling Excellence of the Volkswagen Atlas
The handling prowess of the Volkswagen Atlas is one of its standout features, offering a level of adaptability that appeals to casual drivers and enthusiasts alike.
It has multiple driving modes, including settings optimized for snow and off-road terrains and customized options to fine-tune your driving experience. This versatility ensures that, whether you're navigating rain-soaked streets or adventuring off the beaten path, the Atlas keeps its composure, offering a stable and agile driving experience.
The SUV's suspension is another engineering marvel, designed for comfort and performance. Unlike other SUVs that force a trade-off between the two, the Atlas combines a plush ride with precise control.
Advanced all-wheel-drive options elevate the Atlas' handling to a higher tier. This feature automatically adjusts to various driving conditions, distributing power between the front and rear wheels as needed to ensure optimal grip and control.
Driving into the Future: Advanced Technology in the Volkswagen Atlas
The Volkswagen Atlas has a state-of-the-art technology suite that adds another layer of convenience and enjoyment to your driving experience.
At the center of this is the intuitive infotainment system, which offers seamless integration with smartphones via Apple CarPlay and Android Auto.
The high-resolution touchscreen interface is visually appealing and user-friendly, ensuring that navigation, music selection, and communication are just a touch away.
When it comes to audio and entertainment, the Atlas doesn't disappoint. Upgrade to a premium sound system that delivers crystal-clear audio quality, turning your vehicle into a moving concert hall.
The Volkswagen Atlas also has features like a wireless charging pad and multiple USB ports, ensuring your devices stay charged and connected, even during long journeys.
A Fortress on Wheels: Unparalleled Safety Features in the Volkswagen Atlas
While many vehicles prioritize either performance or safety, the Volkswagen Atlas strikes an exceptional balance between the two.
One of the key safety features that sets it apart is its Advanced Airbag System. Designed to protect all passengers, the airbag system adjusts its deployment based on the severity of the impact, providing an extra layer of protection when needed.
Driver's and front passenger's airbags
Side curtain airbags for both front and rear passengers
Front side airbags
Another noteworthy safety aspect is the car's structural design. The Atlas is built with high-strength steel to create a robust safety cage to divert crash energy from the cabin.
This is complemented by crumple zones that absorb and dissipate impact forces, further enhancing the safety of all passengers.
Last but not least, the Volkswagen Atlas also offers Post-Collision Braking. This feature automatically applies the brakes after a collision, reducing the chance of additional impacts.
This, along with the Anti-lock Braking System and Electronic Stability Control, adds another level of security to ensure that you and your passengers can travel with peace of mind, no matter the destination.
Crafting Comfort and Versatility: The Interior Design of the Volkswagen Atlas
You'll immediately notice the spacious and inviting cabin when you step into the Volkswagen Atlas. With configurable seating options that make it simple to switch from carrying passengers to moving cargo, the Atlas offers unparalleled adaptability.
The third-row seating is especially noteworthy for its roominess and easy access, making it a comfortable ride for family members of all ages.
The quality of materials used inside the Atlas elevates the entire driving experience. Soft-touch surfaces, ergonomic controls, and optional leather upholstery combine to create an atmosphere of luxury.
The Ultimate Atlas Experience Awaits at Wynn Group
As we've explored, the Volkswagen Atlas isn't just another SUV—it's a masterclass in versatility, power, and innovative design.
If you're looking for a vehicle that harmoniously combines performance, safety, and comfort, look no further. But don't just take our word for it—experience it yourself.
The Wynn Group
invites you to visit our dealership for a test drive that could transform your driving experience.
Our friendly
sales staff
is eager to assist you in finding the perfect Atlas model for your needs. Need help with financing? Our
Finance Center
professionals are here to guide you through the options that best suit your budget.
And for future maintenance and service, you can always rely on our top-notch
Service Center
.
See us today
to discover what makes the Volkswagen Atlas a standout in its class.