Get to Work in Style in a Volkswagen Tiguan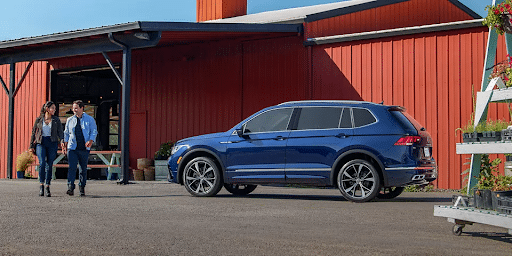 Driving in style can be one of the main factors that people consider when they buy a new car. After all, if the vehicle isn't stylish to you, then what is it that makes you really want to drive it? Of course, things like power and performance are great, but the stylish elements are generally the first things that you notice about a vehicle.
Volkswagen seems to understand that. The Tiguan model is one stylish win that allows you to have everything you need while always driving in style. This car is winning awards and drawing the eye of everyone it passes.
Check out more about how you can be in style with the Volkswagen Tiguan. Then contact us at The Wynn Group to learn more about your options.
Exterior Style Attraction
There should be style in every aspect of a vehicle, but the Volkswagen Tiguan brings style to you from the outside in. You won't find any inch that doesn't somehow play into the big picture.
This compact SUV was created to be practical and attractive in one simple design and it definitely accomplishes both. When you're driving down the road, people are going to notice thanks to the smooth lines and angles that are simple but perfected all around.
While so many vehicles have chosen curves, the Tiguan keeps that angled look without being harsh. The lines flow together to give you a crisp body style and even a little bit of muscle that you don't typically expect from compact SUVs.
The more recent models were revamped heavily in the front, relishing a swept-back look, updated headlamps, and intricate sophistication.
Even the alloy wheels have some intricacies in the design to help bring the entire look together for stylish appeal.
Interior Comfort and Sophistication
Once you get past the exterior, you need style on the inside too. Volkswagen brings you just that in this simple SUV. They pull together elements of style and pair them with comfort so your interior parameters look great and will leave you pleasantly enjoying the ride to work.
You might not even want to get out of the vehicle when you get there. Of course, if you travel for work or commute long distances, you will find that the interior style really improves the experience of getting to work in many optimal ways.
When you're driving down the road, you can appreciate a smooth drive. The Tiguan is loaded with creature comforts that we can all appreciate. It's no wonder this SUV is the best-selling vehicle on any Volkswagen lot.
The interior is spacious and gives you the ability to have an optional third row if you need it. Compared to other compact SUVs in the US, this is actually one of the roomiest options on the market. However, it's not oversized; it still fits well into the compact SUV category.
Stylish Technology Features
One of the key elements of being stylish is having simple but updated technology in your ride. The tech needs to look good however it is incorporated, and it needs to be set up so that you can use it easily. After all, what good is tech that you can't figure out?
The Tiguan features smooth and simple features here. You can appreciate the large touchscreen that allows you to maneuver to the feature that you need, including options like Apple or Android car connections. Some models have an 8-inch screen, while premium models have a 10.3-inch screen.
Where many brands make you upgrade to get things like Wi-Fi, this SUV has it in even the base models, which is nice. The speakers provide smooth listening to enjoy your ride even more.
In addition to the things we've mentioned, you can enjoy ambient lighting, smooth seats and shifters, and brightness that makes the screens easy to see no matter what it's like outside.
Stylish Performance
If you really want to ride in style, you need optimal performance on the road as well. Without quality performance, you end up with frustration, and that's certainly not a stylish feature. VW gets it, and they bring the package into perspective with quality performance elements.
If your commute is long or you're worried about spending too much on gas, you're in luck. This compact SUV has decent fuel economy ratings with an average of 24 MPG city and 31 MPG highway, which is good for an SUV.
The Tiguan incorporates a turbocharged four-cylinder engine, which gives you plenty of power while boosting that fuel economy we just mentioned. Thanks to the turbo, you can feel just a hint of sportiness in your ride but you also get a perfectly smooth drive.
Keep Safe in Style
Finally, part of style is knowing you and anyone with you will be safe. The Tiguan has several great features and positive ratings. The most notable features are Volkswagen specifics like IQ.Drive, which enables driver assistance tech options. Say goodbye to blind spots and challenging drive details with these.
Other safety features include the following:
Intelligent Crash Response System (ICRS)
Safety cage built in
Rear view cameras
Stability enhancement
Post collision automated braking
Ride Everywhere in Style in Your Volkswagen Tiguan
No matter where you're going, the Tiguan is a stylish fit. Your drive to work couldn't be better. Come see us at The Wynn Group to take a closer look and find the right fit for you!