Head for the Hills in a Volvo XC60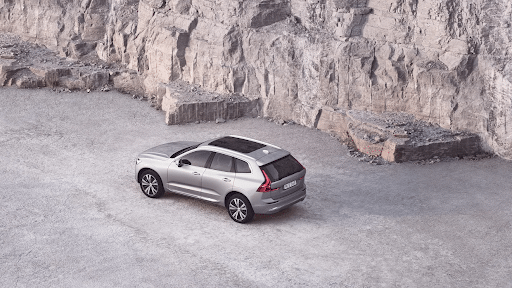 It's the time of year when folks are making travel plans. Autumnal vistas are calling! Rolling hills full of blazing color want to be explored. Far-flung Pennsylvania counties promise mouth-watering fare like crisp apples and fresh-cooked pies. Volvo can take you there.
Our professional team at The Wynn Group understands if you're interested in a Volvo, you expect top-of-the-line luxury, next-gen technologies, and safety innovations that are the best on the road. Our XC60 ticks all these boxes and more!
Luxury
When you settle in behind the wheel of your Volvo XC60, you'll notice premium materials and finely-tuned craftsmanship straight away. Surrounding you in comfort, this dynamic midsize SUV provides modern design and sophistication at every turn.
Engineered with you in mind, you'll find unique luxuries in the XC60, like an advanced air cleaner that prevents up to 95% of hazardous PM 2.5 particles from entering the cabin. Enjoy better and healthier air quality, no matter how conditions are outside.
Volvo XC60 provides luxuries where you'd least expect them. Our active chassis with self-adapting air suspension offers a refined drive. You'll notice a maintained ride height with shock absorbers that automatically adapt to road and driving conditions. Optimal comfort and stability are yours at all speeds.
Blur the lines between the outdoors and inside your cabin. Enjoy open skies and fresh breezes at the touch of a button with our open-and-tilt panoramic roof. Even your rear-seat passengers will appreciate this view!
Your drive isn't complete without an audio system that provides high-end audio performance. Bowers & Wilkins provides a sound you're not soon to forget. Set your playlist; turn up the volume, and get going.
Technologies
Google is built into your XC60. This feature enables you to utilize the following features:
Google Maps. Fully integrated within your car, Google Maps allows you to utilize hands-free voice control and Google Assistant to navigate your journey. Access real-time traffic information and automatic rerouting that makes your drive less stressful.
Google Assistant. Get directions, enjoy entertainment, stay connected to colleagues, friends, and family, and fine-tune your cabin experience - all while keeping your hands on the wheel and your eyes on the road. Just say, "Hey, Google…" to start your adventure.
Connect. Get things done while traveling with Google access to your apps and devices. You can even control your smart home devices from your vehicle so that you know what awaits you when you get home. Now that's peace of mind!
Leave your charger at home. The wireless phone charger provides fast charging for compatible devices. Plus, you'll appreciate the sleek and clutter-free look provided by our dedicated smartphone storage space.
Keep your eyes on the road - all the time. Our head-up display allows you to follow turn-by-turn navigation, answer your phone calls, and watch your speed, all without losing focus on the road ahead.
Safety
We set the bar high for safety standards. At Volvo, our safety technologies are engineered with your safety and that of your passengers in mind. We want you to feel confident behind the wheel and safe as you travel across town or across the country. Safety features include:
Blind Spot Information System. When seconds count, we want your eyes on the road ahead. This system provides active support when changing lanes. If our system senses a risk of collision, BLIS can gently adjust steering to keep your vehicle exactly where it needs to be.
Cross-Traffic Alert with Autobrake. When reversing with limited view, our system can detect vehicles crossing behind and from either side. If needed, our system can apply the auto brake to keep you and your passengers safe.
Lane Keeping Technologies. If our system detects your vehicle drifting across the centerline, we alert you. If you're unable to connect your steering, we gently guide you back to a safer position on the road.
These are only a few examples of the many ways Volvo works to keep you and your passengers safe. Your safety is our priority. Ask one of our sales team members to walk you through all the available and standard safety features of the model in which you're most interested. You won't regret it!
About Us
The Wynn Group has served our friends and neighbors in Morristown long enough to know what you expect from Volvo and specifically from our dealership. When you invest in luxury and take the time to do business with us, you are our priority.
At The Wynn Group, you'll find only the highest-quality vehicles and the most knowledgeable and professional staff. Our trained team members work hard to ensure you have the best information you need to make an informed decision for you and your family.
Visit us in Norristown. Let's discuss all your options. Then, take a test drive. We do not doubt that you'll be headed toward the hills in your brand-new XC60 soon!