Innovative Features You'll Only Find in a 2023 Tiguan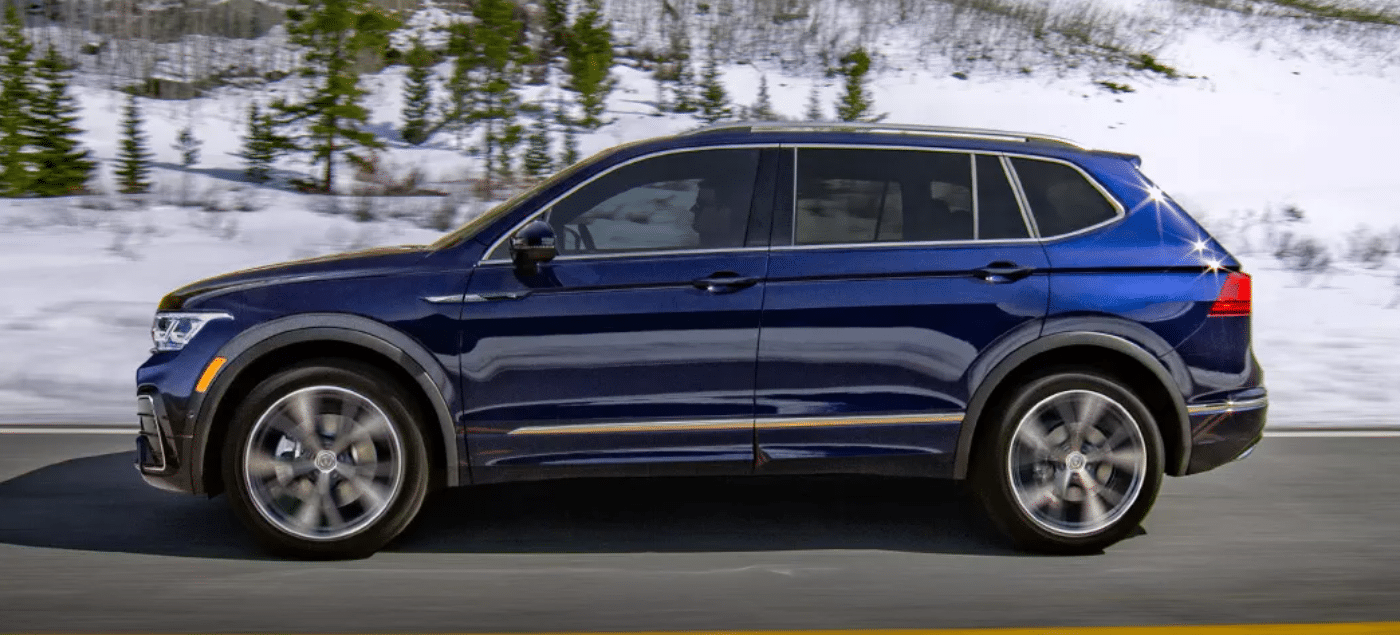 Get ready for the ride of your life with the all-new
Tiguan
! This sleek and sophisticated SUV is packed with innovative features that will make every journey more fun. The Tiguan is the ultimate driving machine, from its cutting-edge technology to its refined and spacious interior.
Take advantage of the opportunity to get behind the wheel of this superb vehicle.
Visit The Wynn Group
today to test drive the all-new Tiguan and see why it's turning heads. We can't wait to see you there!
Power and Performance
The Tiguan is here and ready to take you places.
You'll first notice the power—the Tiguan has plenty of it. With a turbocharged 2.0L engine, you can get up to 36 mpg on the highway and still have plenty of oomph when needed. The Tiguan also boasts an eight-speed automatic transmission that helps ensure your ride is smooth, whether you're on city streets or off-roading in the mountains.
This powerful engine is paired with an 8-speed automatic transmission, providing smooth and efficient acceleration. And with available 4MOTION all-wheel drive, you can confidently take any road.
But it's not just about raw power with the Tiguan. Volkswagen has also included a host of advanced features that enhance its performance. The available Dynamic Chassis Control (DCC) allows you to adjust the suspension and steering settings to your driving style, while the available Driving Mode Selection lets you choose between Normal, Sport, and Eco modes.
So if you're looking for an SUV that delivers on both power and performance, the Volkswagen Tiguan is a perfect choice. Its advanced technology and engineering make it a pleasure to drive, no matter where the road takes you.
Intuitive Safety Features
When it comes to safety, the all-new Volkswagen Tiguan is a top choice. This impressive SUV is packed with intuitive features that will give you peace of mind on the road.
One of the innovative features of the Tiguan is its advanced driver assistance systems. These include Blind Spot Monitor, which uses sensors to detect when a vehicle is in your blind spot and alerts you with a visual warning on the side mirror. This can be especially helpful when changing lanes or merging onto the highway.
The Tiguan also features Front Assist, which uses radar technology to detect when you're getting too close to the vehicle in front of you and can even apply the brakes if necessary to help avoid a collision.
In addition to these advanced systems, the Tiguan also has several passive safety features that help protect you in a collision. These include seven stability-enhancing systems, such as Electronic Stability Control and Traction Control, which help keep the vehicle stable and under control in difficult driving conditions.
The Tiguan also has six airbags, including side curtains and front seat thorax airbags, which provide additional protection during a side impact collision. The Tiguan's rigid safety cage construction also helps to absorb and distribute crash energy, further reducing the risk of injury.
With all of these safety features, you can feel confident and secure behind the wheel of the Volkswagen Tiguan. Its advanced technology and engineering make it one of the safest SUVs on the road today.
Comfortable Interior
Step inside the Volkswagen Tiguan, and you'll be amazed by its refined and spacious interior. From the comfortable and supportive seats to the intuitive infotainment system, the Tiguan has everything you need to make every journey a pleasure.
Standout features of the vehicle's interior include its high-quality materials and attention to detail. From the soft-touch dashboard to the sleek and modern design, every aspect of the Tiguan's cabin has been carefully crafted for your comfort and convenience.
The SUV's infotainment center is also a highlight of the interior. It features a large, high-resolution touchscreen display that is easy to use and packed with features. You can easily access navigation, music, and other media, and the available voice control lets you control the system hands-free.
In addition to its stylish design, the Tiguan's interior is also practical and spacious. The rear seats offer plenty of legroom, making it easy for passengers to stretch out and relax on longer trips. With the rear seats folded down, you can access a maximum of 73.5 cubic feet of storage space.
Stylish Exterior Design
The 2023 Volkswagen Tiguan is a head-turner from every angle. With its sleek and sophisticated exterior design, this SUV will make a statement wherever you go.
The Tiguan's exterior has a bold and athletic stance. The Tiguan's bold front grille and sleek lines give it a sporty and modern look, while the available panoramic sunroof and LED headlights add a touch of sophistication.
In addition to its stylish design, the Tiguan's exterior is also practical and functional. The available hands-free easy open and close power liftgate makes it easy to load and unload your gear, while the available rain-sensing wipers help you stay safe and comfortable in wet weather.
Visit The Wynn Group Today!
Are you ready to experience the thrill of driving the all-new 2023 Volkswagen Tiguan? If so, then visit The Wynn Group today! Our team of experts is prepared to introduce you to this sleek and sophisticated SUV and all it has to offer.
When you visit The Wynn Group, you'll have the opportunity to take the Tiguan for a test drive and see why it's turning heads. You'll be able to experience the thrill of its powerful engine and agile handling and get a feel for its advanced safety features and luxurious interior.
So why wait? Visit The Wynn Group today and take the first step toward making the 2023 Volkswagen Tiguan your own. Our team is ready to answer any questions and help you find the perfect vehicle for your needs.