Lean into Luxury: The Volvo XC60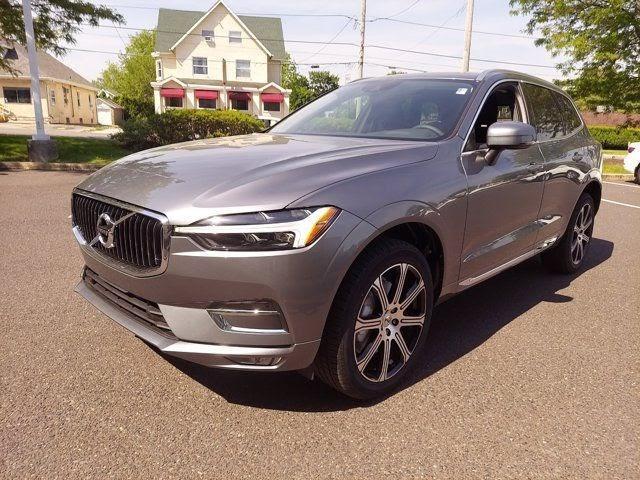 If you are seeking a car that is both luxurious and sleek, then you might be the perfect candidate for the
Volvo XC60
. This stunning car is luxury at its most affordable. Nobody is better at helping you find the vehicle of your dreams than the friendly, dedicated, and knowledgeable staff at Wynn Group Volvo. Want to learn more about what this vehicle has to offer? Visit our showroom today or give us a call.
Meet the 2021 Volvo XC60
The Volvo XC60 is a midsize SUV that seats up to five individuals. It is family-friendly but still fierce, with up to 316 horsepower. It is also eco-friendly and economical for an SUV of its stature with a 9mpg fuel tank—drive in comfort without worrying about hurting the planet in this beautiful beast.
Safety Features. In today's busy world, safety should be a priority in every vehicle you drive. At Volvo, we understand that assisted safety features and the latest technology save lives. As a result, all of our Volvo XC60 SUVs come standard with a variety of safety features to ensure your journey is smooth and secure.
Blind Spot Indicators. Drive with confidence with our standard blind spot information system. The indicators alert you when other vehicles are in your blind spots. The system also uses steer assist in heavy traffic so that you can make your move safely. Change lanes, merge, and make your turns, knowing Volvo has your back.
Steering Control. Stay in your lane with lane departure warnings and steer control features. These technologies can detect subtle vibrations in the steering wheel, keeping you on track. No more worrying about drifting out of your lane, especially on long road trips; the state-of-the-art technology will keep you safely where you belong.
Collisions Detection Systems. Our tech features even allow collision detection to stop accidents before they happen. The system will alert you of pedestrians, bicyclists, animals, and other vehicles 24/7, even when the sun isn't out. Now that is peace of mind!
Cloud-Based Systems. Don't be caught off guard with unforeseen road conditions. Stay in the know with the Volvo XC60's real-time cloud-based communication and navigation systems. Our cloud-based system will alert you to upcoming road conditions and prepare accordingly. We are here to make your journey run more smoothly all year long.
Invest In Comfort and Luxury
Sit back and enjoy the journey with fine detailing, including Nappa leather seats. They are soft and adjustable for the ultimate in comfort. Active air suspension creates the drive mode of your choice. Enjoy the view with the panoramic roof option. Look at the stars or catch some extra sunny rays through this dynamic sunroof system. A self-opening tailgate system makes it easy to unload and load your vehicle in a flash. Sit and relax with your favorite podcast or music playing through our Apple CarPlay and Android systems.
Customization Options
Choose the Volvo XC60 that is right for you with the Wynn Group. With numerous exterior color options, you are bound to find the perfect shade to help you stand out on the road. Colors include:
Exclusive Styles Available
Find the Volvo XC60 style that's right for you with three exclusive types available at your local Wynn Group Volvo dealership. Styles include Momentum, Inscription, and R-Design.
The Momentum starts at only $41,700, with luxurious leather upholstery, dual visible tailpipes with chrome sleeves, and 18" 5-Y Silver Alloy wheels.
The Inscription boasts 19" 10-Spoke Black Diamond-cut Alloy wheels, dual integrated tailpipes and ventilated Nappa leather, all for only $49,200.
But maybe the R-Design, starting at $47,850, is more your speed. This style features 19" 5-Double Spoke Matte Black Diamond-cut Alloy wheels and Open Grid Textile Nappa upholstery. Whichever style you choose, you are bound to ride out and roll up in comfort, security, and luxury. Flexible payment plans make it easy to drive one of these options home today. Never sacrifice a safe, comfortable, and reliable vehicle for a price tag. At the Wynn Group dealer, you can have it all and be friendly to your wallet.
Visit the Wynn Group Today
Want to roll up in style, luxury, and remain safe? Looking for a family-friendly SUV that is sleek and can tackle all road conditions smoothly? Then visit
your local Wynn Group Volvo
dealership today to learn even more about the Volvo XC60. We even have options to help you customize your perfect vehicle, from color to style and add-on packages. Our trained staff is friendly, informative, and eager to help you find the ideal version of your XC60, whether it will be your next adventure car, family vehicle, or personal commuter haven.