The Family Benefits of a Volvo V60 Cross Country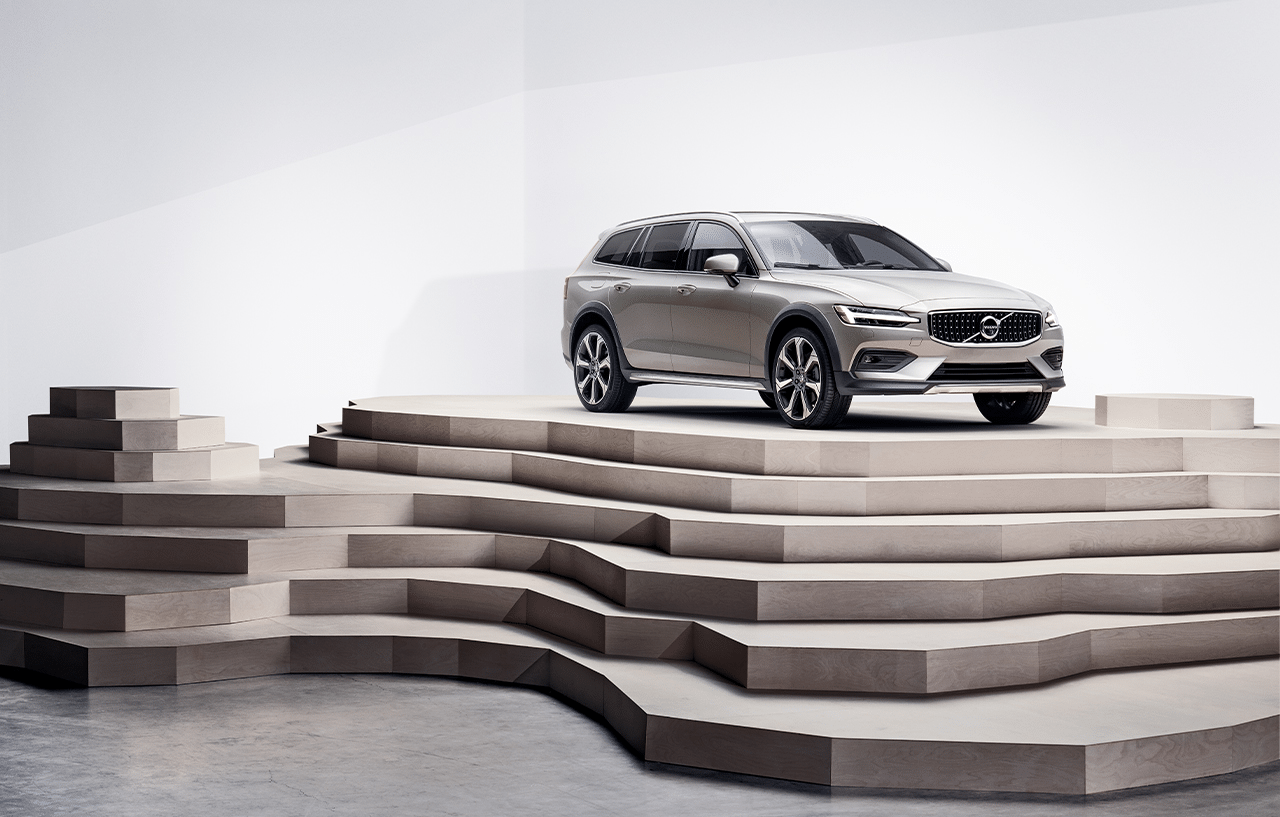 Our knowledgeable sales team at Wynn Volvo on West Main Street
will tell you the Volvo V60 Cross Country is a beautiful combination of both form and function. Elegant and modern exterior and interior styling make this car a head-turner. Families love the V60 Cross Country's spacious interior and cargo room, innovative technologies, and lifesaving safety features.
Interior and Cargo
As a splendid mélange of Scandinavian design and Volvo's renowned ergonomics, our Comfort seats allow you to customize each seat to your particular preferences. Not only can you adjust seat height, lumbar support, and seat heating, but you can also adjust cushion extensions - and even a massage function in the backrest.
With three distinct seats for rear passengers, you will be delighted with the extra cargo room that folding them into the load area floor provides.
You'll never hear anyone complain about interior temperature again. With the available four-zone climate system, all passengers in both the front and rear can manipulate the temperature and air flow to suit their particular preferences.
In need of some Vitamin D? Yearning for a starlit drive? The power-operated panoramic roof is what you've been hoping for. In addition to tilting or opening the glass, a power-operated sunshade reduces glare and provides protection on the brightest days. If you leave the car and forget to close the roof, you can close it from outside the car using the remote control.
Technology
It may not seem like high-end technology, but our heated wiper blades for the front and rear windshields mean that the windscreen and rear window can be washed - even in the harshest conditions - by preventing washer fluid from freezing. That's a technology that works for you - even in extreme conditions.
On an uncomfortably warm day, you don't have to dread entering a hot car. Air-conditioning remote start from the Volvo On Call app on your smartphone means you can start your car and set your temperature ahead of time. When you're ready to start your journey, you're met with a comfortable oasis instead of a sweltering nightmare. This feature is especially helpful if you have young children and hate putting them inside a car that's been sitting in the heat all day.
The heating parking climate function means that on a cold day, after you get to your destination and shut off the engine, residual heat will maintain a comfortable cabin for up to 15 minutes after you park the car. This is helpful when you need just a few more minutes inside the cabin before exiting. Now, you can sit in comfort.
Consumers are tired of keeping up with phone chargers and cords and the inconvenience when they're inadvertently left behind. With a wireless mobile phone charging pad conveniently located in front of the cup holders, you don't have to concern yourself with cords and chargers ever again. Just place your phone on the pad and let it charge away.
Safety
Volvo has always made your safety a top priority. For years, we have invested in research and innovation that means only the most effective, high-tech safety features are included in our vehicles. Be sure to ask your sales team member which of these technologies are standard or available on the car in which you're most interested:
City Safety with Steering Support. You can feel more confident behind the wheel, knowing this system works to help you spot all those things you may not otherwise see. This system detects vehicles, pedestrians, cyclists, and large animals, both day and night. If the system determines you should mitigate a possible collision, it emits audible, visible, and brake pulse warnings. If you take no action, City Safety will brake automatically to help you avoid or lessen the impact.
Oncoming Lane System. If you veer out of your detected lane, this system helps avoid collisions with vehicles coming from the opposite direction by steering you back into your lane and warning you.
Driver Alert Control. If our system detects that you are exhibiting distracted or tired behaviors, you are given an audible warning and a message on the instrument panel asking if you need to stop and stretch your legs or even get a coffee. When combined with Sensus Navigation, it can even recommend a good stopping place for a latte!
Families need extra confidence on the road, and our safety systems provide it. Getting you where you want to go and back home again safely is our primary concern.
About Us
The team at Wynn Volvo Cars Norristown
believes in the quality product we provide our friends and neighbors in Norristown. If you're looking for a luxury vehicle that is reliable, comfortable, full of innovative technologies and lifesaving safety features, then you're looking for a Volvo.
Stop by and see for yourself. You'll be so glad you did.